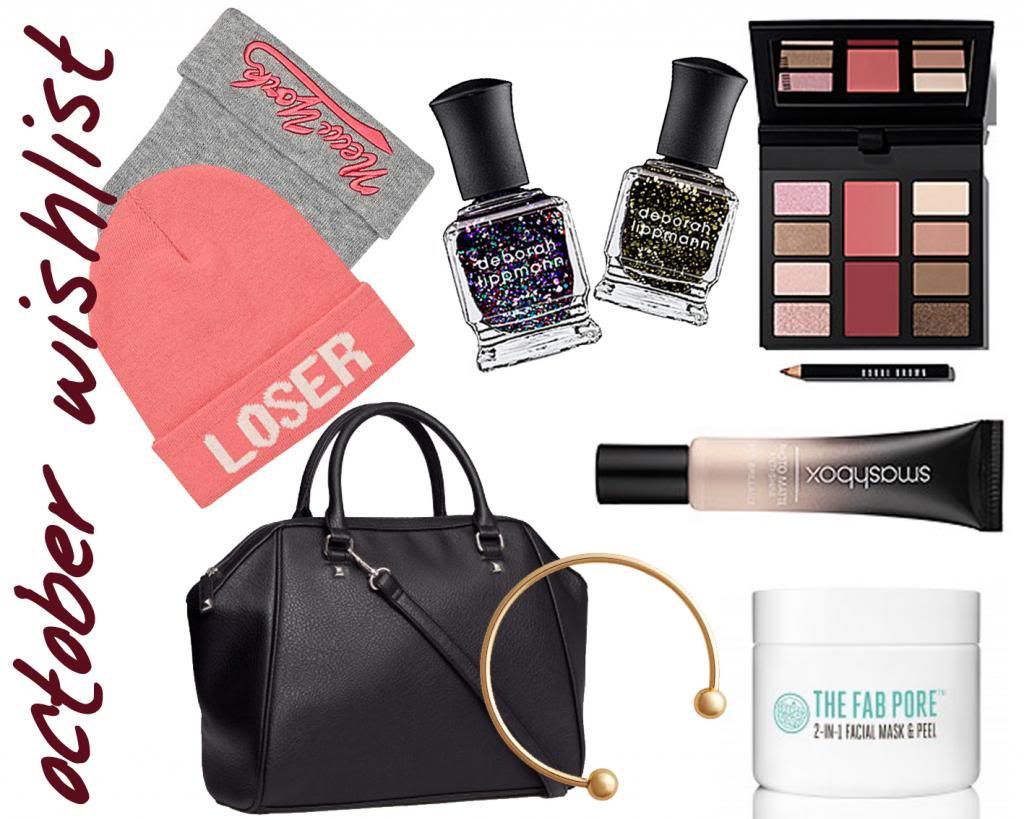 I really like the beginning of a new month because with that comes a new wishlist, and even though I don't always get half of these things, or not even a 1/4 I really enjoy making these lists.
As it's getting windy I'm in a desperate need for a beanie. I really like the
CORAL LOSER BEANIE HAT (£4.00)
, I find it very funny, as you're the one wearing the "looser" tag for your own wish. Another one, also from River Island, the
GREY FLURO NEW YORK EMBROIDERED BEANIE HAT (£10.00)
is the one I've spotted some time ago in their store and I just can't get my mind of it. When you say beanie this one pops into my head. I'd rather like it to pop onto my head ;)
At H&M website I've spotted two things I'd like to have in my closet. You know I'm a sucker for big bags so it's totally natural I've picked another. I like the
H&M HANDBAG (£14.99)
mostly because of it's simplicity, oh, and I'd really use a handbag right now! I've also found this beautiful
BANGLE (£5.99)
. I've never seen it in the stores but there are so many things there I could have missed it.
Visiting Sephora's website is always a bad idea, I know it but I still keep visiting it. Oh, well. I've found there a few thing I'd like to have in my make up bag! Firstly, the
BOBBI BROWN BOBBI and KATIE PALETTE ($68.00)
- all-in-one palette for eyes, lips and cheeks. I love the colours placed on this palette, so girly, perfect for everyday look! Next the
SMASHBOX PHOTO MATTE ANTI-SHINE PRIMER ($25.00)
. We, oily skin girls, buy everything with a note "matte" or "anti-shine". Well, this one has both and I've heard so many good things about the Smashbox primers I'd love to try one! I've also found these amazing nail polishes from Deborah Lippmann called
CLEOPATRA IN NEW YORK(gold studded black)
and
LET'S GO CRAZY(royal purple)
for $19.00/each. I really like glitter on my nails and these look amazing, especially the Let's go Crazy one!
On Boots I've found just one thing I'd love to have, it's the
Soap & Glory™ Fab Pore™ 2-in-1 Facial Pore Purifying Mask & Peel (£6.67)
. It's the second edition of this mask and I'd love to try it!
What did you wish for the October?
Hey! Thanks for stopping by! Follow me on
bloglovin'
!